bw2FDM is divided into four working areas:
Coordination of the cross-cutting issues of the four Science Data Centers (SDCs) in Baden-Württemberg
Further development of the information platform forschungsdaten.info
Consulting and training on the topic of research data management (RDM)
Planning and implementation of the conference E-Science Days
One project goal is to support the SDCs in the coordination of their development and common issues. This includes activities that ensure the networking of the SDCs with each other and with the project bwHPC-S5, and increase their visibility for the research communities in Germany and Europe. In particular, bw2FDM accompanies the activities of the SDCs by establishing working groups to work on cross-cutting issues, such as legal questions, public image, business models, metadata, training/education.
Furthermore, bw2FDM is responsible for the further development of forschungdaten.info. With its best practice articles, the platform is the leading source of information on all questions concerning research data management for the German-speaking countries. More than 30 RDM specialists from Germany and Austria work together in the editorial team. The information platform was evaluated during the current project phase. The scientific areas are to be expanded and further initiatives are to be presented in the category RDM in German-speaking countries.
In addition, the project organizes trainings and webinars and provides training materials for subsequent use as OERs, for example on forschungsdaten.info. The visibility of the activities is ensured through systematic networking and outreach at conferences and in publications. The software Research Data Management Organiser (RDMO), which is available under rdmo.forschungsdaten.info, will be further developed to generate data management plans.
Last but not least, bw2FDM is organizing the E-Science-Days 2021 and 2023, thus supporting the nationwide exchange of knowledge and experience on the topic of RDM. The results and lectures will be made available through open access publications.
bw2FDM is continuing and building on the structures and results of its predecessor projects bwFDM-Info I and bwFDM-Info II.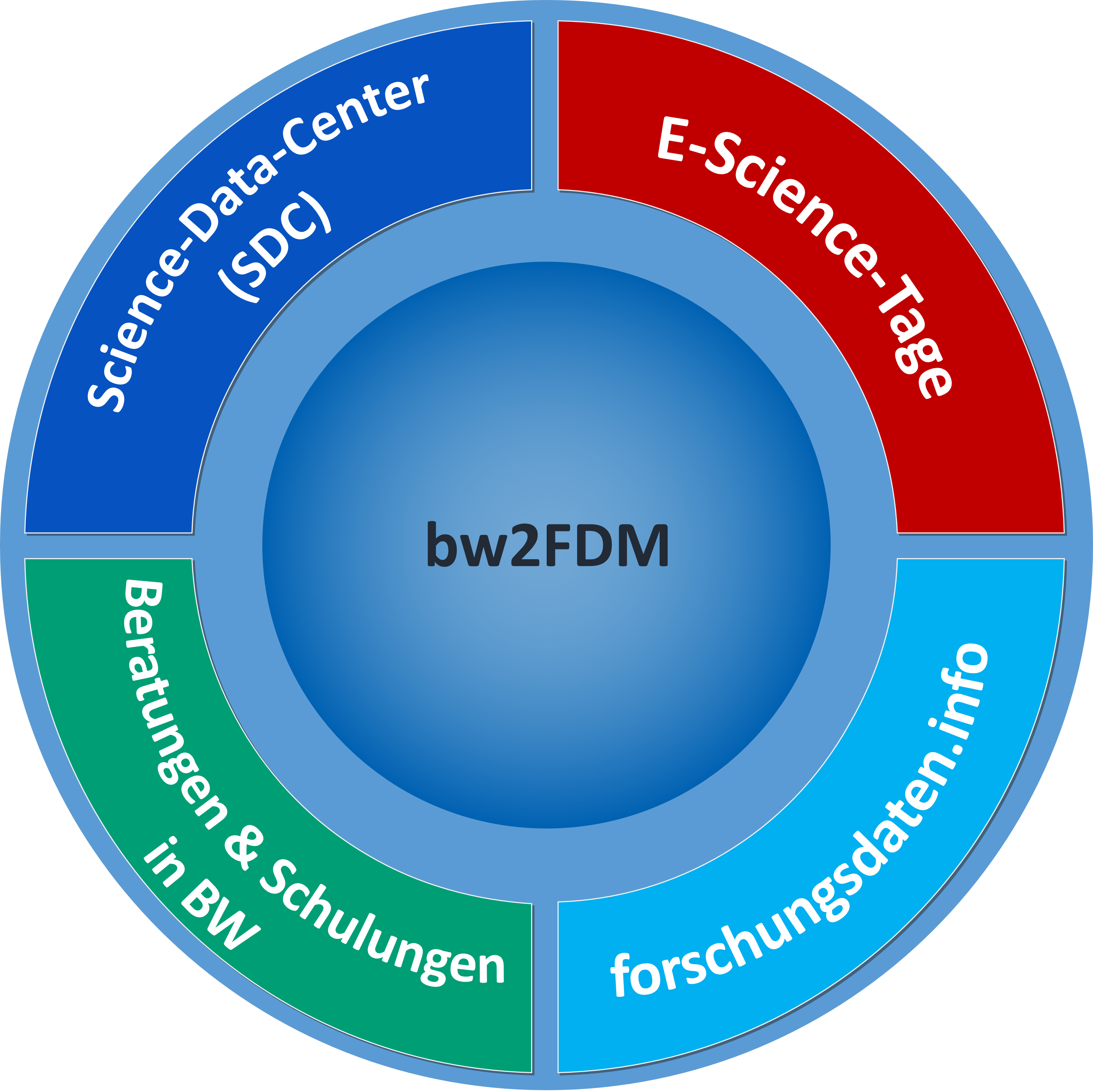 bw2FDM overview by working areas / Axtmann u. Reifschneider / CC BY 4.0
The project is funded by Baden-Württemberg Ministry of Science, Research, and the Arts (MWK).